Hi Munchworms!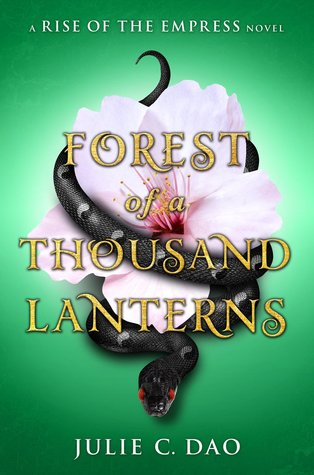 It feels as if I'm finally somewhat catching up with all the books I received through FairyLoot – but not really… I was intrigued by this book from the start, though! So when I got to pick a new read, this was one of my top options!
An East Asian fantasy reimagining of The Evil Queen legend about one peasant girl's quest to become Empress–and the darkness she must unleash to achieve her destiny.

Eighteen-year-old Xifeng is beautiful. The stars say she is destined for greatness, that she is meant to be Empress of Feng Lu. But only if she embraces the darkness within her. Growing up as a peasant in a forgotten village on the edge of the map, Xifeng longs to fulfill the destiny promised to her by her cruel aunt, the witch Guma, who has read the cards and seen glimmers of Xifeng's majestic future. But is the price of the throne too high?

Because in order to achieve greatness, she must spurn the young man who loves her and exploit the callous magic that runs through her veins–sorcery fueled by eating the hearts of the recently killed. For the god who has sent her on this journey will not be satisfied until his power is absolute.
First things first. I was ridiculously excited to read this book. I've been following the author, Julie C. Dao, on Instagram for a while now and her sparkly, happy attitude got to me in the best way possible. Of course this made my expectations increase.
I was surprised to find that Dao's happy character didn't really shine through in this novel. Forest of a Thousand Lanterns is way darker than I expected – but I purposely didn't reread the blurb before I started reading, going in mostly blind. Some descriptions gave me goosebumps – eating hearts, really?! – and made me shiver all over but I liked it.
It's not usually something I'd enjoy full-on but this book was different. It lured me in, took a hold of me and didn't let me go.
Xifeng, our MC, is a special girl. I kept changing my mind about her; liking and understanding her one moment, loathing her the next. Pitying her in certain situations, yet feeling as if she deserves everything coming her way in others. It felt weird being so indecisive when it comes to a character, but it made me love this book even more.
It cannot be easy for an author to make this struggle so real for their readers – Julie C. Dao appears to have done this easily though!
As for the writing in general, it was simple, yet descriptive and capable of pulling me in completely. Pretty much everything I usually like in an author's style and this was no different.
---
She would bloom where she was planted and let her roots close around the throats of her enemies.
---
Even though I loved my struggle with Xifeng and making up my mind about her, it did feel tiring at times. At one point I just wanted to make up my mind, but I kept changing it anyway. I simply got frustrated, haha.
---
"I'm sick to death of lords and kings and emperors. What do they do but play games and let their people pay the price in blood?"
---
I still feel like this is a gorgeous, honest story that portraits a person's struggle perfectly. If it can make the readers struggle to make up their minds, I'm bound to say it's a promising book. I cannot wait to get my hands on the sequel!
When it comes to munches, persimmons were mentioned quite often, so here's a beautiful Googled picture of persimmons! Sometimes I quite like drooling over google images, don't you?
I received a copy of this book in my FairyLoot. All opinions are entirely my own. I'm not being compensated in any way.