The weekly reading update! I was thinking about doing it biweekly, but.. to be honest, I'm such a creature of habit and I kind of love doing these posts so.. why not just stick to the weekly ones and risk repeating myself over and over?
I haven't  really read all that much although the sleepless nights with Jamie definitely helped a bit to get some reading in. Now I'm simply struggling with reading physical books? It isn't easy combining that with holding a baby non-stop! And yes, I truly am holding him non-stop. It's hard letting go – already, haha.
Anyway, let's see what I read at night!

As always, covers link back to the Goodreads-page, so feel free to check them out!
I started The Dark Descent of Elizabeth Frankenstein a couple of days ago and.. it's a weird read so far? Basically Elizabeth is looking for Victor Frankenstein, who took off a long time ago and she hadn't heard from for months. We have no clue why he left, why she suddenly has to find him and.. that's not even mentioning all the questions surrounding Henry and a letter he supposedly wrote? No clue what's in that letter! So.. I'm kind of feeling like I'm just reading to read without.. an actual goal at this point.
I have to say there have been some scenes that freaked me out though. Cutting open animals and all.. Yikes.
I managed to finish the two books that were on my "currently reading" last week! So proud of myself! Especially since, with finishing When the Tik-Tik Sings, I've succeeded at Monstrous March – yay me! Even more proud about not DNFing the thing because I was really tempted to..
As for The Prep and the Punk; there's a review coming your way eventually! Usually I don't review my Kindle freebies on the blog, but this one deserved it so.. that's saying plenty, right?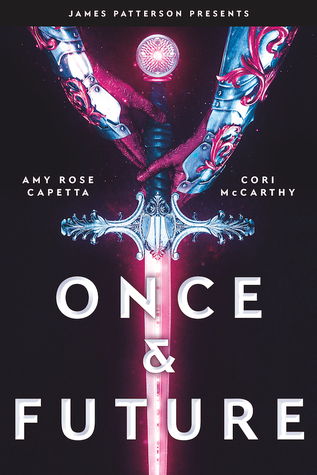 I need to start on Once & Future STAT. It's release is upon us and I haven't even started reading it yet. I've managed to always read and review my ARC's on time so fingers crossed I won't ruin this magical streak. And if I do.. So be it. Not putting any pressure on myself when it comes to my ARC's; there's more important things in my life after all.
No new additions – again. Although I did want to add to them? But, alas. I'm getting denied and rejected all over the place when it comes to ARC's lately. No fun feeling but whatever.
How has your reading been?
Do you sometimes decide not to review a book in advance and then end up changing your mind? Why?
What's next on your TBR?
If you have a WWW-post of your own, feel free to leave it in the comments!