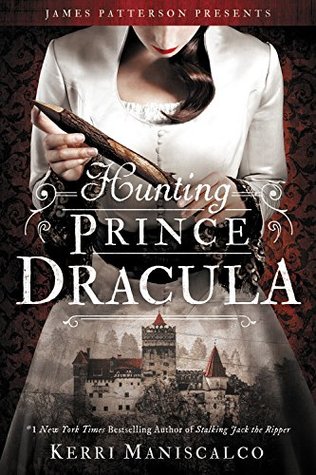 TITLE: Hunting Prince Dracula #2
AUTHOR: Kerri Maniscalco
RELEASED: September 19, 2017
PUBLISHER: Little, Brown & Company
FORMAT: Hardcover
GENRE: YA Historical Mystery
GOODREADS RATING: 4.38
TRIGGERS: SPIDERS, detailed corpse / intestine descriptions
SYNOPSIS
In this New York Times bestselling sequel to Kerri Maniscalco's haunting #1 debut Stalking Jack the Ripper, bizarre murders are discovered in the castle of Prince Vlad the Impaler, otherwise known as Dracula. Could it be a copycat killer…or has the depraved prince been brought back to life?
Following the grief and horror of her discovery of Jack the Ripper's true identity, Audrey Rose Wadsworth has no choice but to flee London and its memories. Together with the arrogant yet charming Thomas Cresswell, she journeys to the dark heart of Romania, home to one of Europe's best schools of forensic medicine…and to another notorious killer, Vlad the Impaler, whose thirst for blood became legend.
But her life's dream is soon tainted by blood-soaked discoveries in the halls of the school's forbidding castle, and Audrey Rose is compelled to investigate the strangely familiar murders. What she finds brings all her terrifying fears to life once again.
After reading Stalking Jack the Ripper, I didn't start this one immediately. I don't understand why; not at all. I wish I'd dived in as soon as I got my hands on this book. On the other hand.. With Halloween around the corner, now seemed a great time to pick this one up! So let's see how often Kerri Maniscalco succeeded at freaking me out this time around.
I'm simply going to start by saying: A LOT. Jitters while reading were pretty common. I often found myself rubbing my own arms to get rid of the goosebumps. No surprise there because I am and always will be a huge chicken. For some reason, I enjoyed it though. Yup, I'm weird.
There was only one.. event.. where I absolutely freaked out and felt like cursing everyone who didn't warn me about the spiders. Seriously. I read that part right before I was supposed to go to sleep. Safe to say I immediately finished the entire book to distract myself from the spider-part and hoping I'd be able to sleep after all. Win: I actually succeeded at that! Lesson: Do not read the final hundred pages if you loathe spiders and want to sleep afterwards – just saying.
If one simply looks to others for their opinions, they lose the ability to think critically for themselves. Progress would never be made if everyone appeared and thought and loved in the same manner.
But enough about the spiders! Audrey Rose! I remember thinking all the good things about her in the first installment and that hasn't changed one bit. She's still fun, feminist, true to herself and – above all – so brave. She struggles with the Jack the Ripper-murders, but still succeeds at doing what she loves most: putting her scalpel in corpses. That takes guts – excuse the.. pun..
As for Thomas? Skies know I didn't feel their blossoming romance half a year ago but Hunting Prince Dracula changed that a whole lot. I'm so grateful! I found myself rooting for them, feeling the tension, wishing they'd freaking give in already but not wanting them to at the same time. Yup. Love those two together.
Passion and annoyance were fire, and fire was alive and crackling with power. Fire breathed. Grief was a vat of quicksand; the more one struggled against it, the deeper it pulled one under.
Oh, the vibes! I was wondering how dark and eery this novel was going to get. With SJTR set in London, I was prejudiced so I needed to see how I'd feel in a setting I'm not at all familiar with. Answer: Loved it – again!
Monsters could wear the smiles of friends while secreting away the rotten soul of the Devil in the darkest crevices of themselves.
I'm still not over the spiders. I'm pointing at them for the bad thing. I can't help it. I loathe spiders. Those descriptions were ones I didn't like. I HATE SPIDERS OKAY. Of course I' m not even counting this as a real negative but you know. Rant.

The combination of the creepy castle, the bond between Audrey Rose and Thomas, the myths and stories Maniscalco incorporated in her story and her amazing – but very real and goosebumps-invoking – descriptions made Hunting Prince Dracula everything I wanted it to be!
Have you read Stalking Jack the Ripper? What about Hunting Prince Dracula?
Are you planning on it?
What's a dark, eery novel you'd recommend any time?
How do you like / loathe spiders? Please tell me I'm not alone in this.