Hi Munchworms!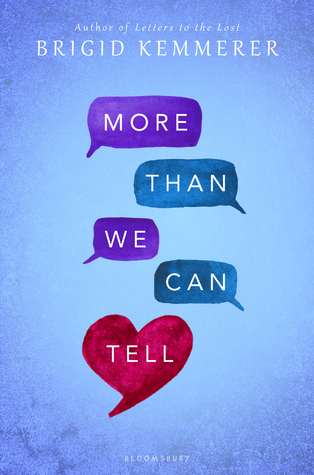 After reading Letters to the Lost, I dived into More Than We Can Tell. Honestly, during the first book I got so intrigued by Rev! I really was looking forward to his story, finding out more about him. More Than We Can Tell did just that and so much more.
If you haven't read Letters to the Lost yet, be aware that there might be spoilers in this novel / review.
Rev Fletcher is battling the demons of his past. But with loving adoptive parents by his side, he's managed to keep them at bay…until he gets a letter from his abusive father and the trauma of his childhood comes hurtling back.

Emma Blue spends her time perfecting the computer game she built from scratch, rather than facing her parents' crumbling marriage. She can solve any problem with the right code, but when an online troll's harassment escalates, she's truly afraid.

When Rev and Emma meet, they both long to lift the burden of their secrets and bond instantly over their shared turmoil. But when their situations turn dangerous, their trust in each other will be tested in ways they never expected. This must-read story will once again have readers falling for Brigid Kemmerer's emotional storytelling.
Let's start with saying communication was a big deal in Letters to the Lost and it was in More Than We Can Tell as well, albeit in a different way. Where Letters had more of a focus on the importance of communication, More Than We Can Tell shows the consequences of not communicating. It made me realize that being honest and open is so important.
He says the Internet makes too many people loud, and too many people silent, but the loud people are all we hear.
The feelings. I have to say I was overwhelmed multiple times. Rev's had a very rough past. A past that somewhat resonates with my own. It made this novel hard to get through at points since so many things sounded familiar. I felt some of my mental scars reopening at certain parts, but… in a good way. There are definitely some difficult topics mentioned and incorporated. Abuse and cyber-bullying being the most important ones. Reading about those subjects can be confronting, hard and very difficult but Brigid did it in a way that made it bearable for me. Even though I found myself cringing at some points as well.
We all push sometimes, just to make sure someone is on the other side, pushing back.
I was intrigued by Rev back when I was reading Letters, so it's pretty obvious that I loved him already. He has so many scars, but it made him stronger. So much stronger. Rev pretty much stole my heart because he doesn't realize how strong he actually is. His POV's were my favorite, without a doubt. They made my skin crawl sometimes, but his story made me feel, really feel.
Whereas with Emma that wasn't entirely the case. I understood her and what she was going through, but it felt off sometimes. Like, maybe I was so invested in Rev and his story that I automatically thought less of Emma's? I don't really know. I just know that what she was going through did reach me, did make me feel but not as much as I wanted it to.
I like how it makes doubt seem inevitable. It's okay to be unsure.
This story broke my heart, lifted it up again, opened some old scars – in a good way – and really, really made me feel. I loved it. And like Letters to the Lost made me curious about Rev's story, now I'm curious about Matthew's story! Give me more, Brigid! Please!
As for the munches, there was mention of pizza and Dunkin' Donuts. Unfortunately we don't have any Dunkin' Donuts over here, but I kind of used this book as an excuse to make homemade pizza. Why not right?! Drool!
Okay, to be honest, it's a picture of my boyfriend's pizza because his was done first and I didn't have any patience left – and secretly started eating my own before I even thought about taking a picture of that one as well. I was hungry, okay?!
What are your favorite pizza toppings?
Also, have you read Letters to the Lost? Are you going to read
More Than We Can Tell?
Quotes are taken from an uncorrected proof and might differ from the finished copy.