Hi Munchworms!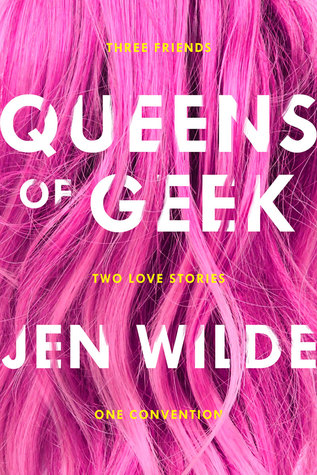 Confession: I've always loathed pink. Maybe because people kept pushing it on me because I'm a girl? But I'm no typical girl. Tomboy, hi!
So, obviously, when I started seeing this cover everywhere my brain just went "NOPE!" immediately. I would not pick it up, nuh-uh. But then people told  me I would abso-bloody-lutely love it and… Well, I had to give it a chance, no?
Three friends, two love stories, one convention: this fun, feminist love letter to geek culture is all about fandom, friendship, and finding the courage to be yourself.

Charlie likes to stand out. She's a vlogger and actress promoting her first movie at SupaCon, and this is her chance to show fans she's over her public breakup with co-star Reese Ryan. When internet-famous cool-girl actress Alyssa Huntington arrives as a surprise guest, it seems Charlie's long-time crush on her isn't as one-sided as she thought.

Taylor likes to blend in. Her brain is wired differently, making her fear change. And there's one thing in her life she knows will never change: her friendship with her best guy friend Jamie—no matter how much she may secretly want it to. But when she hears about a fan contest for her favorite fandom, she starts to rethink her rules on playing it safe.

Queens of Geek by Jen Wilde, chosen by readers like you for Macmillan's young adult imprint Swoon Reads, is an empowering novel for anyone who has ever felt that fandom is family.
I don't even know where to start this review to be honest. I just loved every single thing to pieces. I loved all the geekness, all the movie-, gaming- and all-things-geeky references. Adored them. This book made me feel at home in a way no other book ever has and that's saying something, isn't it?!
---
"History and experience have proven to me that it's very hard for people to understand, and all too easy for them to judge."
He shakes his head like he's disappointed. "But how will you know how people will react if you don't open up to them in the first place?"
---
Queens of Geek is written from two POV's, Charlie's and Taylor's. I love Charlie but I have to be honest and say Taylor stole my heart. Her anxiety was beautifully shown – at least, I think so. I don't have any kind of anxiety disorder so I could be wrong. – and it made me feel her, really feel her. She battled, fought and clawed her way out of every anxiety-pit she fell into. She didn't give up, even when she wanted to.
Anxiety or not, that's a person I'd admire every single time.
---
"Are you happy the way you are? Are you comfortable? Do you feel like yourself?"
The corner of my mouth lifts into a half smile. "Yes. Yes. And yes."
"Then that's all that matters. Fuck everything else."
---
The setting, you guys! There's only one convention I usually go to, once a year, but SupaCon sounds so much more awesome! I wish I could go there, I really do. Preferably with all you guys so we can geek out over books and be the biggest geeks out there. Queens and Kings of Geek, yes!
Not that long ago, I started using sticky notes while reading. I'm pretty sure I just stopped using sticky notes reading Queens of Geek because I felt like everything deserved a note? There were so many sentences in that book I felt were perfect. So many! I had a ridiculously hard time picking only three for this review…
---
That's what I like most about her; she isn't fearless. She's scared, but she keeps fighting. She has moments of doubt, when she runs away, but she comes back. She doesn't give up. Sometimes she fails, she falls down, she makes mistakes. She's real.
---
There wasn't anything bad about this book. I can't think of anything I didn't like. I loved the geekiness, the love, the bisexuality, the friendship. Everything!
As for the munches, a burger with ketchup! Because we all need our tomato sauce-hunter and I got mine hunting for this picture. No fries though – we never make burgers and fries, haha.
My own special sauce – burger – cheddar – egg – ketchup
I paid full-price for this novel. All opinions are entirely my own. I'm not being compensated in any way.