Hi Munchworms!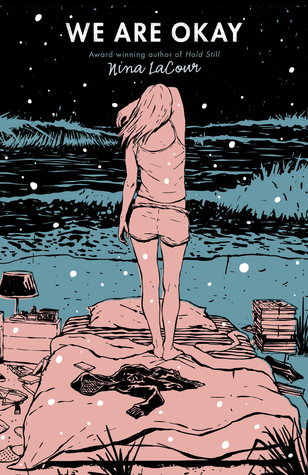 For both Diverse December as the Holiday Adventure-a-thon, I picked We Are Okay by Nina Lacour. I got this book as a birthday gift from a colleague of mine. Can't we agree that the colleagues who make the effort of checking your Goodreads are the best ones?!
Since I really felt guilty that I hadn't read it yet – I've had this book since September, oops! – I knew I had to pick it up!
You go through life thinking there's so much you need…

Until you leave with only your phone, your wallet, and a picture of your mother.

Marin hasn't spoken to anyone from her old life since the day she left everything behind. No one knows the truth about those final weeks. Not even her best friend, Mabel. But even thousands of miles away from the California coast, at college in New York, Marin still feels the pull of the life and tragedy she's tried to outrun. Now, months later, alone in an emptied dorm for winter break, Marin waits. Mabel is coming to visit, and Marin will be forced to face everything that's been left unsaid and finally confront the loneliness that has made a home in her heart.
I knew this book's main topic is grief. Grief is something we all struggle with at some point in our life so in a way I was looking forward to it. I was surprised by the way it touched me, though.
I lost my grandfather at a young age and he was like a dad to me – a lot more than my own father ever was. Being reminded of that hurt, in a good way. It reminded me of him, made me recall all those fond little memories. It made me love this book even more.
Of course, that's not all there is to it. Marin and Mabel's friendship definitely deserves to be mentioned as well. Although they both have their faults, they still find a way to communicate, to fight for each other. I saw their struggle and ended up respecting them for it. They felt completely human and real to me.
And that's a compliment for Nina LaCour's writing. I loved it. It was simple, yet straight-forward and not too simple. I could easily lose myself in it since it read so fluently. Her writing is pretty much comparable to a small stream, moving slowly but steadily.
---
I wonder if there's a secret current that connects people who have lost something. Not in the way that everyone loses something, but in the way that undoes your life, undoes your self, so that when you look at your face it isn't yours anymore.
---
I couldn't really think about a bad thing at first and had to come to the conclusion that it'd mean a five cupcake-rating but… Even though I loved this novel, I can't say I'm so wowed by it that I want to give it five cupcakes? Loved it, but it isn't a new favorite. I can't find any specific reason for this, except that this is just how I feel.
---
"Sometimes it's difficult," he says, "to know the right thing to do."
---
As for the munches, the food Marin lives on and – probably – loves with all her heart: Top Ramen! Oh, and cereal but.. Let's just say I didn't want to put those to together and I can't even find Top Ramen over here anyway, haha.