Hi Munchworms!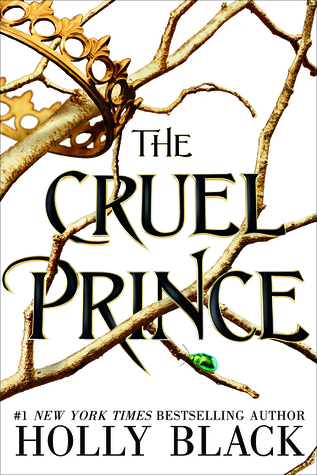 A while back I got approved for the eARC of The Cruel Prince by Holly Black on NetGalley. To say I was over the moon doesn't sound close with how happy I was!
Fae? Royalty? Yes, plea-hease!
Of course I want to be like them. They're beautiful as blades forged in some divine fire. They will live forever.

And Cardan is even more beautiful than the rest. I hate him more than all the others. I hate him so much that sometimes when I look at him, I can hardly breathe.

Jude was seven years old when her parents were murdered and she and her two sisters were stolen away to live in the treacherous High Court of Faerie. Ten years later, Jude wants nothing more than to belong there, despite her mortality. But many of the fey despise humans. Especially Prince Cardan, the youngest and wickedest son of the High King.

To win a place at the Court, she must defy him–and face the consequences.

In doing so, she becomes embroiled in palace intrigues and deceptions, discovering her own capacity for bloodshed. But as civil war threatens to drown the Courts of Faerie in violence, Jude will need to risk her life in a dangerous alliance to save her sisters, and Faerie itself.
I love Black's writing. I already knew that since I read two other books by her – the first two instalments of the Curse Workers Series – and loved them. Knowing those are older, I was thrilled to find out how her writing has evolved since then. And evolved it has!
I loved her descriptive style, almost tasting the forbidden fruit she described. Overall it's a writing style that lures me in, draws me in, pulls me in. Maybe even just throws me in?
As for the world-building? Yes! Although it took me a little while to lose myself into the story, I loved everything. I liked the mentioning of the different courts – I really hope we're getting more of those as the series progresses! -, the actual behavior of the Fae – cruel, free and amazing with words since they cannot lie – and, of course, just… everything.
One thing that I have to mention: This book has twins! I love twins! My mom's half of a twin! I have a bigger chance of getting twins myself? Like, twins!
Faerie might be beautiful, but its beauty is like a golden stag's carcass, crawling with maggots beneath her hide, ready to burst.
I just couldn't for the life of me connect with our MC, Jude. I understood what she was doing and I got her motivation for her actions as well but I just didn't feel her. Not feeling a main character is always such a pity because we all know how much of an influence it can have on your reading experience. Yet, in this case, I just enjoyed the story way too much to let it bother me an awful lot.
No matter how careful I am, eventually I'll make another misstep. I am weak. I am fragile. I am mortal.
As for the munches, here's some honey wine, or mead! Apparently our Fae like this drink and… what a coincidence! … so do I!
This book is being released January 2nd, so if you haven't yet: get your hands on a copy! I promise you it's worth breaking your book buying ban for, haha.
Amazon.com – Amazon.co.uk – BookDepository – Barnes & Noble
I received an eARC through NetGalley. All opinions are entirely my own. I'm not being compensated in any way.
Quotes are taken from an unfinished copy and can differ from the finished book.