Hi Munchworms!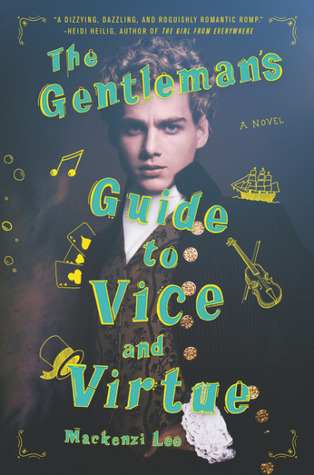 A lot of you have been raving over The Gentleman's Guide to Vice and Virtue for months now and most of you have been telling me to read it as well. I finally did!
I have to admit that I really was looking forward to it since so many people seem to love this book so much but… Did it live up to my expectations?
Henry "Monty" Montague was born and bred to be a gentleman, but he was never one to be tamed. The finest boarding schools in England and the constant disapproval of his father haven't been able to curb any of his roguish passions—not for gambling halls, late nights spent with a bottle of spirits, or waking up in the arms of women or men.

But as Monty embarks on his Grand Tour of Europe, his quest for a life filled with pleasure and vice is in danger of coming to an end. Not only does his father expect him to take over the family's estate upon his return, but Monty is also nursing an impossible crush on his best friend and traveling companion, Percy.

Still it isn't in Monty's nature to give up. Even with his younger sister, Felicity, in tow, he vows to make this yearlong escapade one last hedonistic hurrah and flirt with Percy from Paris to Rome. But when one of Monty's reckless decisions turns their trip abroad into a harrowing manhunt that spans across Europe, it calls into question everything he knows, including his relationship with the boy he adores.
If there's one thing I loved about this novel, it's the writing. It's fluent, it's descriptive and it pretty much transported me to every city mentioned. Honestly, the writing made the things I didn't like a little easier to handle – but that's something I'll get back to in a second.
Characters. Percy! Honestly, I love Percy. I love the way he handles things, the way he hides his emotions, yet shows them in the subtlest and cutest ways possible. I love how he makes up his mind and doesn't let anyone tell him what to do. It's simply admirable since he's been told what to do, when to hide pretty much his entire life. Not to mention all the judgments he has to handle because of his skin color.
Felicity also stole a little piece of my heart. That girl knows what she wants and is prepared to fight for it, to ignore her father's wishes and just do what she wants to do. I respect that completely. It can't have been easy in a time like that, at all.
Of course I also loved the overall concept of this novel. Being bisexual myself, I can only cheer whenever a character – not to mention an MC – is bisexual as well. Add to that a POC and a road trip? This one is sold.
---
"Because I want you to know," she says, "that there is life after survival."
---
But there were things that annoyed me as well. The plot, for instance. Even though I read this novel fluently, it took me about 200 pages to feel like there was actually a real goal towards their Tour. It took me that long to get really invested in the novel and that's such a pity!
Then we have Monty. A character I love to hate? Check. Even though he had his cute and fluffy moments, overall I couldn't stop thinking of him as an egocentric, egoistic brat. Sure, he has his own past and deals with a lot but… I just could not get myself to like him at all. Which is too bad since the whole novel is written from his POV.
---
I understand less than half the words in that sentence, but God bless the book people for their boundless knowledge absorbed from having words instead of friends.
---
I did like The Gentleman's Guide to Vice and Virtue but I think I got my expectations up way too high because of all the hype. I closed this book with a feeling of disappointment. Three cupcakes!
I paid full-price for this novel. All opinions are entirely my own. I'm not being compensated in any way.