Hi Munchworms!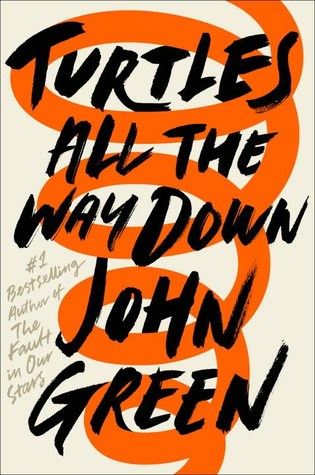 As you guys have probably seen everywhere, Turtles All The Way Down by John Green was published earlier this month. Now that's a book a whole lot of people were looking forward to!
To be honest, I hadn't read anything by John Green yet, so this was going to be my introduction to his writing. Saying I was curious and – maybe a bit – anxious about it, is only fair. Oh, the pressure of a hyped author sometimes.. 
Sixteen-year-old Aza never intended to pursue the mystery of fugitive billionaire Russell Pickett, but there's a hundred-thousand-dollar reward at stake and her Best and Most Fearless Friend, Daisy, is eager to investigate. So together, they navigate the short distance and broad divides that separate them from Russell Pickett's son, Davis.

Aza is trying. She is trying to be a good daughter, a good friend, a good student, and maybe even a good detective, while also living within the ever-tightening spiral of her own thoughts.
It's obvious that characters all need to have their own distinct voices, but I never imagined how hard it can be for a "normal" person to crawl into the skin of someone who isn't completely "normal". Now, don't take this the wrong way; I'm trying to figure out a good way to explain this..
Our MC, Aza, has anxiety and OCD. And, as far as I can tell, it aren't light forms either. I honestly don't know a lot about the subject, simply because I'm fortunate enough not to have been in contact with either during my life.
This is exactly why I appreciate both the story, the MC and John's writing so much. Even though I don't have any background, I can still imagine being Aza. I literally felt my skin crawl at certain points, imagining what she was imagining. Losing myself in that tightening spiral Aza lost herself in so often.
It was so much easier to talk to him in the dark, looking at the same sky instead of at each other. It felt like we didn't have bodies, like we were just voices talking.
I was surprised by how easily John Green pulled me into the being of Aza. I hadn't expected to feel so close to a character I have – let's just say it – nothing in common with. Both my parents are still alive, I don't have anxiety nor OCD, I'm perfectly capable of steering my thoughts. All things that define her and were completely unknown to me.
I could feel her every emotion, her doubts, her struggles. Especially her struggles. This was a hard novel to get through, yet in a way it wasn't. I laughed, I cried, I sometimes even had to catch my breath and take a couple of minutes to process what I just read. At times, I even felt proud of Aza for accomplishing even the smallest things.
Anybody can look at you. It's quite rare to find someone who sees the same world you see.
Usually when I'm reading a novel, I write down the quotes that stick with me. Turtles All The Way Down was an exception to that. Why? Because I pretty much found a sentence that spoke to me every other page. Safe to say that I gave up writing them down after a couple of chapters. Maybe I should buy myself a second copy to justify marking those sentences in there?
I'll definitely reed more of his novels. No doubt about it.
5 / 5
And a veggie burger, because. Aza.
I paid full-price for this novel. All opinions are entirely my own. I'm not being compensated in any way.
The munches-picture was found on Google; rights of it belong to whoever the owner is.