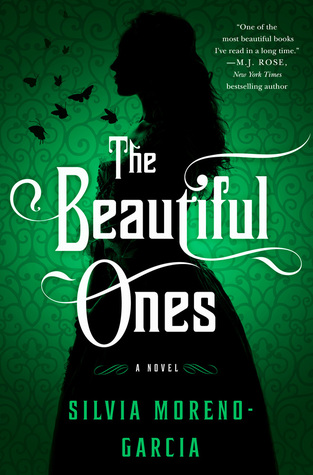 Hi Munchworms!
During ARC August, I got to read this beauty of a book, The Beautiful Ones by Silvia Moreno-Garcia, which I received through NetGalley.
Seeing that cover, I was completely sold! It looked interesting, intrigued me immediately and after reading the blurb, I got excited enough to request it, ha!
Looking back, I have to say that this book wasn't what I expected, yet it didn't disappoint in any way! When I read the blurb and requested this book, I thought I was going to find a beautiful, yet fast-paced story but what I got? Was so much more!
In a world of etiquette and polite masks, no one is who they seem to be.

Antonina Beaulieu is in the glittering city of Loisail for her first Grand Season, where she will attend balls and mingle among high society. Under the tutelage of the beautiful but cold Valérie Beaulieu, she hopes to find a suitable husband. However, the haphazard manifestations of Nina's telekinetic powers make her the subject of malicious gossip.

Yet dazzling telekinetic performer and outsider Hector Auvray sees Nina's powers as a gift, and he teaches her how to hone and control them. As they spend more and more time together, Nina falls in love and believes she's found the great romance that she's always dreamed of, but Hector's courtship of Nina is deceptive.
The Beautiful Ones is a very character-driven book which causes it to have a slower pace than I'd normally like. Because of the beautiful descriptions, the clear insights you get in the characters and the overall story, I completely fell in love with this book anyway.
Even though I usually like a faster pace, I completely lost myself in the story of Nina, Valérie and Hector once I got myself to accept the slower progress of the story.
By the end of the book, I really did feel like I might have known all three characters myself. Their thoughts, characteristics and passions are shared in such a way that you can easily imagine them being real.
"You do not know what it is like to want something for so long, you forget why you even wanted it in the first place, until the only thing left is a gnawing need and there is nothing that can fill it. And even though everything in your body tells you that you are killing yourself wanting it, you cannot stop."
When it comes to the characters, Nina is obviously my favorite. She's a bit rebellious – being raised outside of the city and haven't had the "proper education" when it comes to lady etiquette – and a little nerd as well, since she loves collecting beetles! Nina won my heart early on because of her hopes and dreams when it came to love, her eagerness to actually fall in love and even her naivety when it actually happened. Being naive at first, you really do notice the progress she makes as she's maturing along the way.
I didn't really like Hector at first because of his lack of honesty. Yet, in the end, I start to respect him more and more. We all know it isn't easy to even think about giving up certain dreams and passions – which is exactly what Hector needs to learn.
As for Valérie? Let's just say I wouldn't mind pushing her off a bridge.
A sea roared inside her and made demands, but she waded it, she bobbed up, took a breath, and opened her eyes to the cold winter morning. Then she rose because the day was there, the world was there, and she wanted to be part of it.
If I have to name one thing about this novel that I… Well, I didn't dislike it, I just expected the fantasy-aspect to have a bigger place in the story. Yes, the telekinetic powers are essential since it's Hector's profession and Nina's struggle, but I had hoped it would have an even more profound presence in the story, a bigger impact.
Honestly, though, that's just me and my fantasy-addiction speaking, haha!
I really did enjoy this book, so for this, I'm giving The Beautiful Ones by Silvia Moreno-Garcia a 4 / 5.
If you like beautifully descriptive, character-driven historic novel with a little dash of fantasy, I'd definitely say you have to read this book!
As it's being published October 24th, you can even pre-order it on Amazon.com, BookDepository or any other site you like. Or you can add it to your Goodreads-TBR!
I received this book through NetGalley. All opinions are entirely my own. I'm not being compensated for my review in any way.