Hi Munchworms!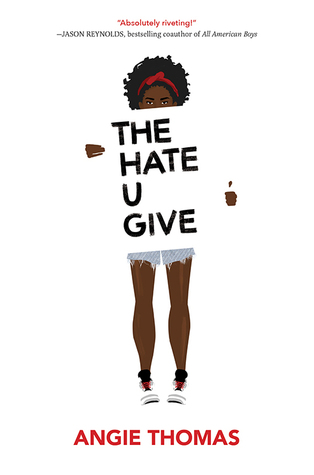 As you might remember, I read The Hate U Give by Angie Thomas for the Make Me Read It Read-a-thon during the second week of August.
Since this is a book that can and will have a huge impact on a lot of people, I couldn't possible not write a review on it.
Sixteen-year-old Starr Carter moves between two worlds: the poor neighborhood where she lives and the fancy suburban prep school she attends. The uneasy balance between these worlds is shattered when Starr witnesses the fatal shooting of her childhood best friend Khalil at the hands of a police officer. Khalil was unarmed.

Soon afterward, his death is a national headline. Some are calling him a thug, maybe even a drug dealer and a gangbanger. Protesters are taking to the streets in Khalil's name. Some cops and the local drug lord try to intimidate Starr and her family. What everyone wants to know is: what really went down that night? And the only person alive who can answer that is Starr.

But what Starr does or does not say could upend her community. It could also endanger her life.
This book touches so many subjects that are barely being talked about in today's society. Or at least, it's barely being mentioned where I live. Yes, there's the news and social media. But reading this book was completely different. Confronting, to say the least.
Safe to say it's a book that makes people think, makes people realize what a cruel world we're living in and that it's up to us to change it, or – at the very least – try to.
"People like us in situations like this become hashtags, but they rarely get justice."
The biggest subject touched is racism. It's shown in so many different ways, but I'll only name the two obvious ones.
Number one? Corruption. We all tend to put "our" people first, no matter what the cost. Protect them and, automatically, victimize others. We weaken the people that deserve to be protected as well – maybe even more so.
Number two? Fair chances. Yes, there's a whole lot of us out there who are blessed with all the chances we could possibly wish for. Others? Not so much. They have to fight to get what they want, while we often take certain things for granted. Even see it as a nuisance sometimes.  [Education being the obvious example here.]
Every time I'm whole and back to normal, something happens to tear me apart, and I'm forced to start all over again.
Starr, the main character of this story, is an amazing girl who's growing up in a hard life. She has endured a lot, and has yet to survive so much more. She's pressured by her parents to make a good life for herself, pressured by her surroundings to be what they expect of her. So much so that she feels she has to be two different people. "Ghetto"-Starr and "White"-Starr.
I cannot start to fathom how that's like. Not being able to be who you really are? Having to mind every gesture, every word before you move or open your mouth? Switching between those two worlds and trying to keep them from colliding – out of fear that they'd never blend properly?
Starr's a person you respect, hard and fast, even though she also has her faults. But it's what makes her human and isn't that what we all are? Human.
"See you later, alligator."
"After a while, crocodile."
I wanted to start this sentence with "If there's one other person I'd say I respect…" And then I realized that I respect so many of the characters that I cannot pick just one. Big Mav, for example, gave up so much for his family because he wanted to cut ties with all things "gang". Seven, who keeps defending all his sisters, even though they don't expect him to. Uncle Carlos who supports Starr, even though he's a cop and it's hard for him to "pick a side".
You know what? Let's just say I respect every letter of every word on every page. There.
Apart from being a book that challenges you to think about a lot of subjects, it's also a beautiful story of someone growing into herself, finding her own voice and discovering a way to use it.
Simply put? We should get every single person on this planet to read this.
Maybe then we'll be able to come together, as humans, not as races.
5 / 5
No munches with this book. Instead, I'm going with a drink. Why? There's a certain beer mentioned in this book that made my skin crawl. As some of you know, I'm from Belgium. Belgian beer? Best beer!
The fact that there's Dutch beer mentioned in this book? No can do!
I had the urge to scratch it out. So there you go, Belgian beer.
I paid full-price for this book. All opinions are entirely my own. I'm not being compensated in any way.